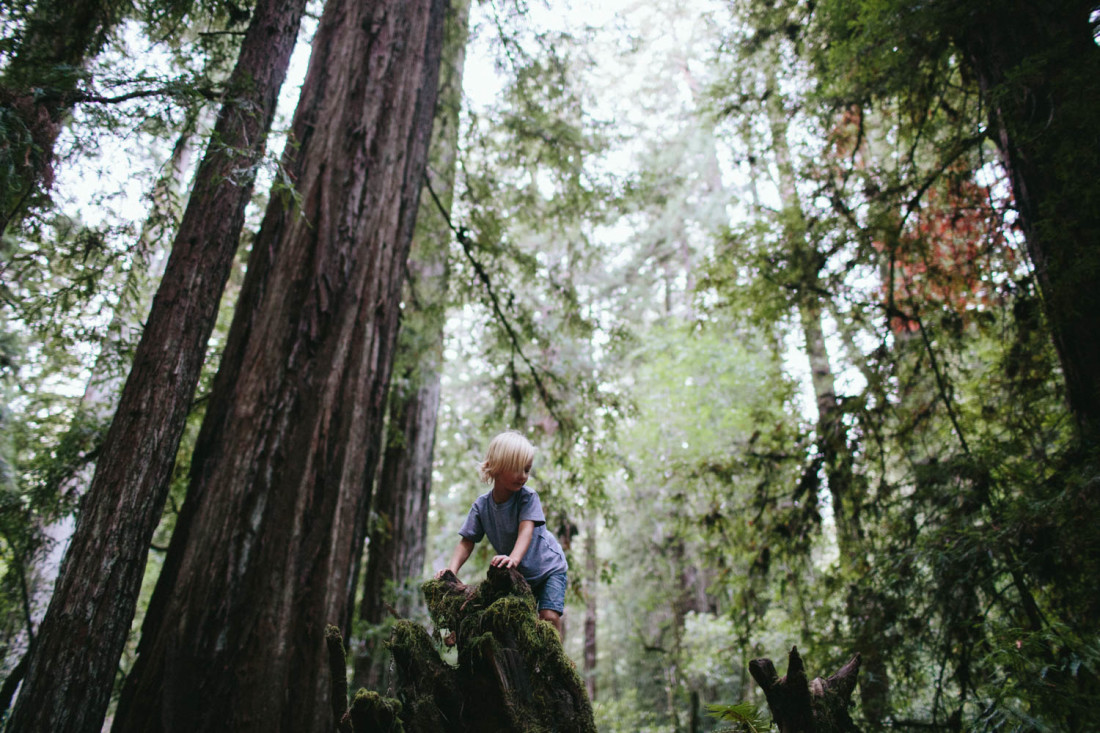 When you're a child, you seem to simply accept the world for what it is; trees that are over a thousand years old don't take your breath away in quite the same way as it does when you're an adult. I guess that's why living through your child's eyes is all the more exciting… because you get to experience things that – with any luck – you may have experienced years ago but with a whole new appreciation and outlook.
The boys enjoyed their usual: collecting sticks, stealing the far superior walking sticks Willy and I would come across, and yelling loud enough to hear their echoes. Given the fact we were in the company of the Redwoods, they also enjoyed climbing in, under, through, and on top of the roots and fallen trees.
We drove up the hill, past the Redwoods, to catch the sunset at a spot I had located the day prior when shooting a wedding. From the clearing, we had an expansive view of the mountains, all covered in trees; the light draping different colors amongst the different layers as the sun settled beyond the horizon. The boys ran amuck, per usual, catching the occasional lizard and proving their lizard-catching-skills to be beyond the stage of requiring help or assistance. The handling of said lizards, however, is another tale.
Not pictured is the dinner that followed that consisted of numerous timeouts outside and a screaming three year old face down on the concrete sidewalk. In that moment, I longed to be buried back in the Redwoods where perhaps the echoes of his own yells could scare him silent.
More pictures from our time in Guerneville soon to follow, with any luck at least…
Please join me in supporting the other photographers participating in the Childhood Unplugged movement by clicking here to see all our submissions. You can also follow us on instagram (@childhoodunplugged) and be sure to use #childhoodunplugged for a chance to be featured on our Instagram feed.