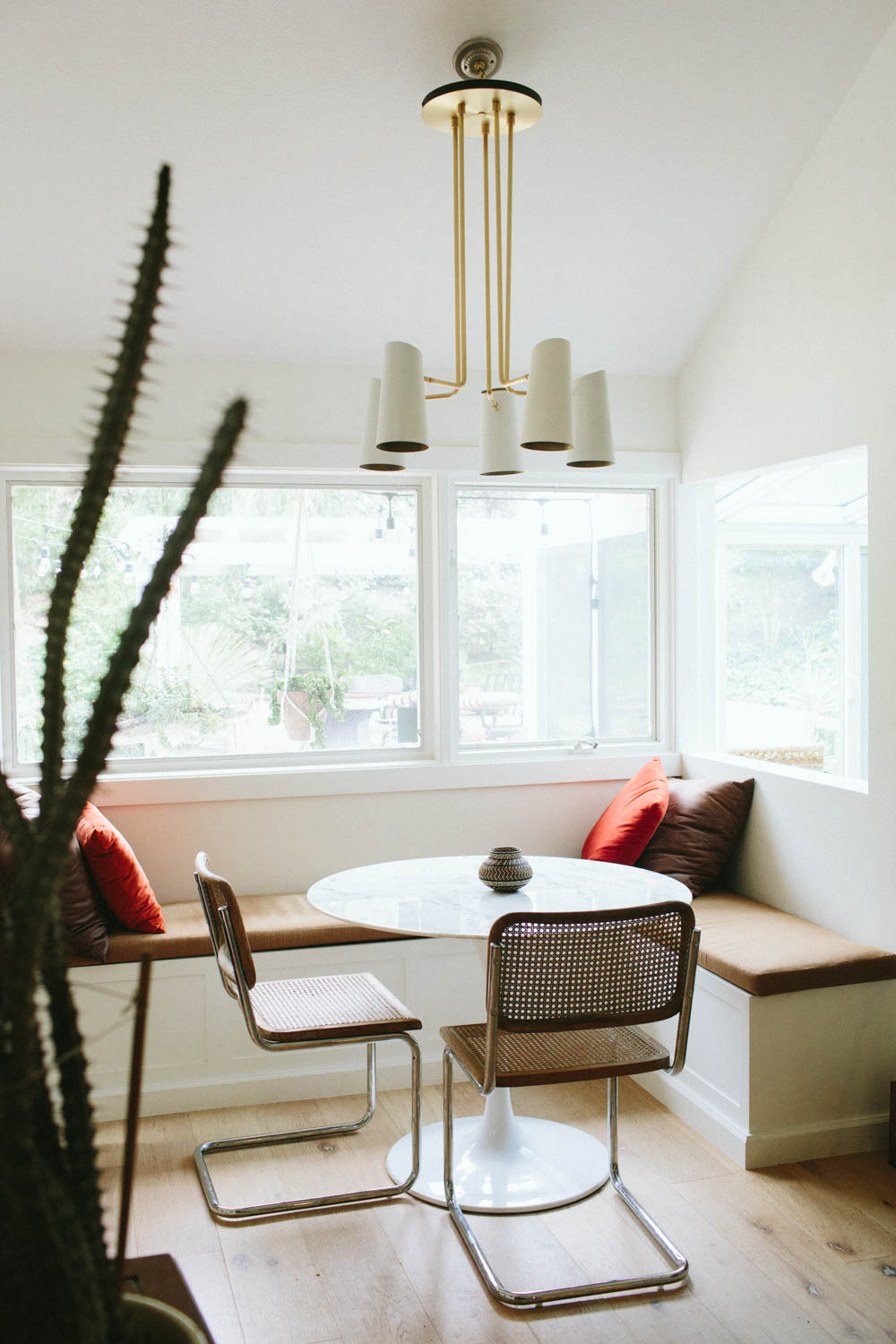 When we moved over two years ago we knew the townhome we purchased would more-or-less be temporary. We were eager to get into the area and though it lacked a yard, we fell in-love with the vision we shared for the interior. We gutted it immediately upon purchasing it and did what we could to make the inside stand apart from the outside, which appeared exactly the same as all the others it was attached to.
We added reclaimed wood floors, painted the walls white, and when noting the memorial day sale on the kitchens at Ikea, jumped at the opportunity to upgrade the kitchen too. All the decisions were made rather fast because, well, they had to be. Once you buy a home, the rug kind of gets swept out from under you. There wasn't a lot of thought that went into much of it though in the end I was pleased with most of it, except for the kitchen because black countertops were just a huge mistake and ikea, well, they're great for somethings, but having an ikea kitchen is something I'm happy to move on from.
Case in point, I knew when we moved again that I'd want more time to plan, more time to translate thoughts and ideas into demos and purchases.
We looked at several homes and even put an offer on another that we didn't get and in hindsight wasn't right for us anyways. And when we did find 'the one', just as before, things started moving super fast. The escrow period, for starters, was much shorter than we wanted but was also not something we were willing to lose the house over especially since we were contending with an all cash offer.
I should digress, because it's worth digressing.
The first time we saw the house we now call home was on a Saturday. It was the day before a scheduled open house and we figured we'd drive by and check it out from the outside and get a feel for the neighborhood. As we passed by, we noticed the owner was having a garage sale. Willy and I both turned to each other and in nothing other than eye contact communicated the fact that we both knew this was our 'in'. We got the kids out of the car and struck up conversation with the older woman who owned the house and were quickly introduced to her grown children, who were helping with the garage sale. Next thing we know we're being given a personal tour and sharing life stories and an hour or so later we departed with a woven basket she was selling that she had purchased in Africa. We went to the open house the next day for a second look and put an offer in on Monday. The rest, so they say, is history. Case in point, personal touches sometimes supersede all cash offers.
And so, once again, things started to move faster and I found myself fumbling with everything. Imagine a glass plate with food on it being put on a metal roller pin conveyer belt, the food bouncing around and every now and again, falling off the plate. That's what life felt like in that moment. Sonny was brand new and I just had no time to get on top of anything.
It had only been two years since we had last remodeled a place and we knew the process well enough to greet it with both anticipation and with dread. Knowing well that things get hung up along the way, costing more time and more money than originally anticipated, I made it a point to not contribute in anyway to any delays. Meaning, I wanted everything decided and ordered so that the only hang up would be with installation. Because the good Lord knows that things arrive broken while other things take a month or longer to be delivered and so on and so forth. Point being, I didn't want to be responsible for the remodel to take any longer than it needed to.
Nothing can steal the joy in purchasing a new home faster than the laundry list of things you want done before you move in. Flooring, paint, moldings, doors, stains, handles, fixtures, furniture. It's all the stuff that's fun so long as you have the time to to give it. Otherwise it all becomes a burden and stress. Whereas we knew our last home was a temporary arrangement, this home we hope to stay for a bit so the decisions that needed to be made carried more weight.
In steps my girl, Kate, who – over the past few years – has become a friend, and a solid one at that.
Last time we went to Cuba, Kate and her family (who were on-the-road travelers at the time) stayed at our home. Knowing she has a great sense of taste and a love for design, I asked her for a few opinions on things around our townhome that I had kind of ran into road blocks on. It resulted in me rearranging the furniture in the upstairs bedroom, which opened it up and gave the room a totally different feel. I also had her sketch out a custom credenza for the entryway, which turned out lovely. Point being, she gained my trust and I knew with this next go-around that it would be in my best interest to bounce ideas off her once again.
I didn't know then just how helpful she would prove to be. I mean I already knew she rocked as a friend, but having a pseudo 'working relationship' was beyond what I thought it'd be. She was so on top of everything. She helped me create mood boards, suggested products, talked me into the wood countertops I really wanted but didn't think I'd be able to care for (no joke she sent me an entire page of thorough research that also contained an argument for the design element they would add that I couldn't argue with. And truthfully didn't want to argue with, because all the heart eyes). She made phone calls, hunted down products, sent me options.
It. Was. So. Helpful.
My struggle with interior design is staying cohesive, which I think is an issue many share. I'm drawn to buying what I like, what speaks to me, without much consideration of where I will put it or it 'goes with' the other items I've chosen to bring into my home.
Take our kitchen, for example. We opted to get rid of everything except the cabinetry, which truthfully we weren't crazy about but we also didn't hate enough to rip out and drop thousands to replace. We opted instead to paint them. That aside, they have a flat facade and clearly fall into the category of modern. The fixtures I had originally wanted didn't suit the modern finish of the cabinets at all. It was Kate who reeled me in and pointed out that I need to work with it and not against it. Her vision was not only beautiful, but it worked with what we already had. And the wood countertops were the perfect pull away from the modern feel of the cabinets.
I also tend to go off on tangents. Like lately, I've been drawn to everything wicker. Which has resulted in several thrift and craigslist finds like a full on sofa wicker set, a wicker rocking chair, a wicker bench… not to mention the pieces of wicker I already owned. Point being, it's easy for me to get carried away and I've made many purchases over the years with the pretense that I could always sell it if it didn't work out. Which really has just resulted in a garage that no cars can fit in.
Kate, on the other hand, is a minimalist. I remember a post she wrote once where she actually counted the number of items in her living room and came to a grand total of 50 or something. Mind you, this included plants – and their pots – as two separate items as well as books. I love the idea of being more selective, of the less is more mentality, so it was helpful to have the gentle reminder to not over-do it and to reconsider my buy-it-now-and-figure-it-out-later mentality.
The other thing I like about working with Kate is that she makes decisions based on reason over preference. For example, I sent her two daybeds I was debating between for the sunroom and the response was more of a 'this one will work better because…' as opposed to 'I like this one'. Point being, it was never about what she liked. Instead, she took everything I liked into consideration and helped me make decisions with the design of it all at the forefront.
I've been pushing Kate to make the business leap for sometime. Her and her wife have renovated an airstream prior and are currently working hard on their second and they just have all kinds of talents that need to be shared with the world. She's now offering her services online and I'm so proud of her for doing so. It's no small feat to start a business and to follow what you love. Working with her, even with all the states between us, was such a breeze and such a pleasure and such a stress reliever.
What are your thoughts on interior design? Would you, too, find it helpful to consult a designer? What do you love / hate about the design elements of your home?
You can check out Kate's site here , the services she offers here, and her newest airstream renovation by clicking here.