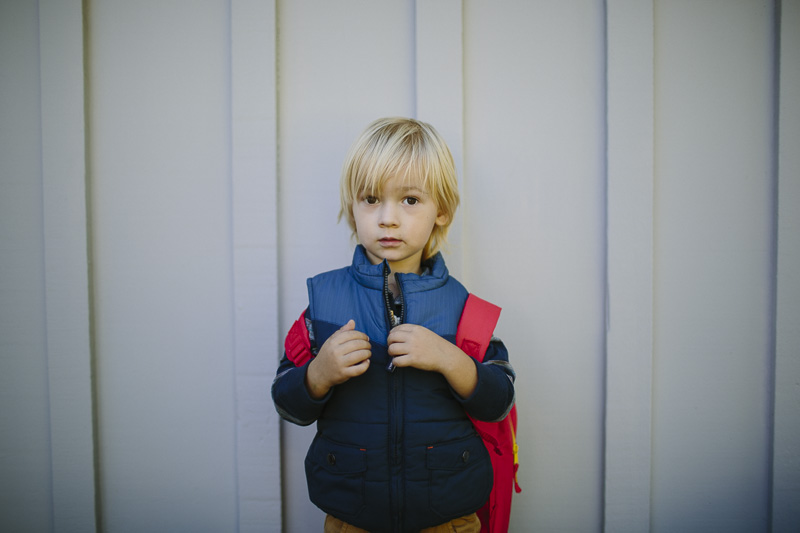 We've known for a while that Hooper was ready for preschool. It happened about the time he stopped taking his marathon naps (seriously, sometimes they were up to 4 hours long) and insisted on watching back to back to back episodes of Curious George.
I hesitated, knowing I'd be having back surgery and therefore having to delegate yet another chore to another friend or family member.
Initially we were going to wait until I was fully recovered but we both decided he was more than ready and we figured we could swing it at this point in recovery. That, and we couldn't handle him kicking, pinching, or biting Van one more time.
Willy looked at me from across the table on one of our lunch dates and said, "How do we sign him up?". I always giggle to myself when he asks me questions as if I've been a mother longer than he's been a father. I looked at him with equal cluelessness and said, "I dunno".
And so, we made a few phone calls.
The first school we toured was a Montessori. Perhaps it was the fact that we saw the price prior to the tour, but neither of us got the warm fuzzies. We drove away wondering how the majority of people afford to put their kid through pre-school. No, really, how do you all put your kids through pre-school?
In the hopes of finding something more affordable, we stopped at a church and inquired about their program. Before price was even discussed, Willy and I gave one another the secret nod of approval. It all felt very organic.
And, just like that, Hooper started pre-school.
The first day Willy and I dropped him off together. He went straight for the toys without looking back and Willy and I walked to the car giggling over the thought of that day marking the first in what is bound-to-be years of schooling. I picked him up and was given a few handouts with classroom information, a playdough recipe, and a list of some things the teachers needed for the classroom and all the sudden I was the legit parent of a pre-schooler.
Despite a couple days of long faces at the time of drop off, he's been doing great. I started him three days a week, half-days.
My favorite day yet was the day I dropped him off wearing a beanie with a large pom pom on top and came four hours later to pick him up to find he still had the cap on his, albeit a bit disheveled. The teacher told me he didn't want anyone to take it off. I giggled to myself all the way to the car as I put my sweaty little ski-cap wearing toddler in the car. Man I love that kid.
When did you start your little one in pre-school? Is pre-school affordable in your area?