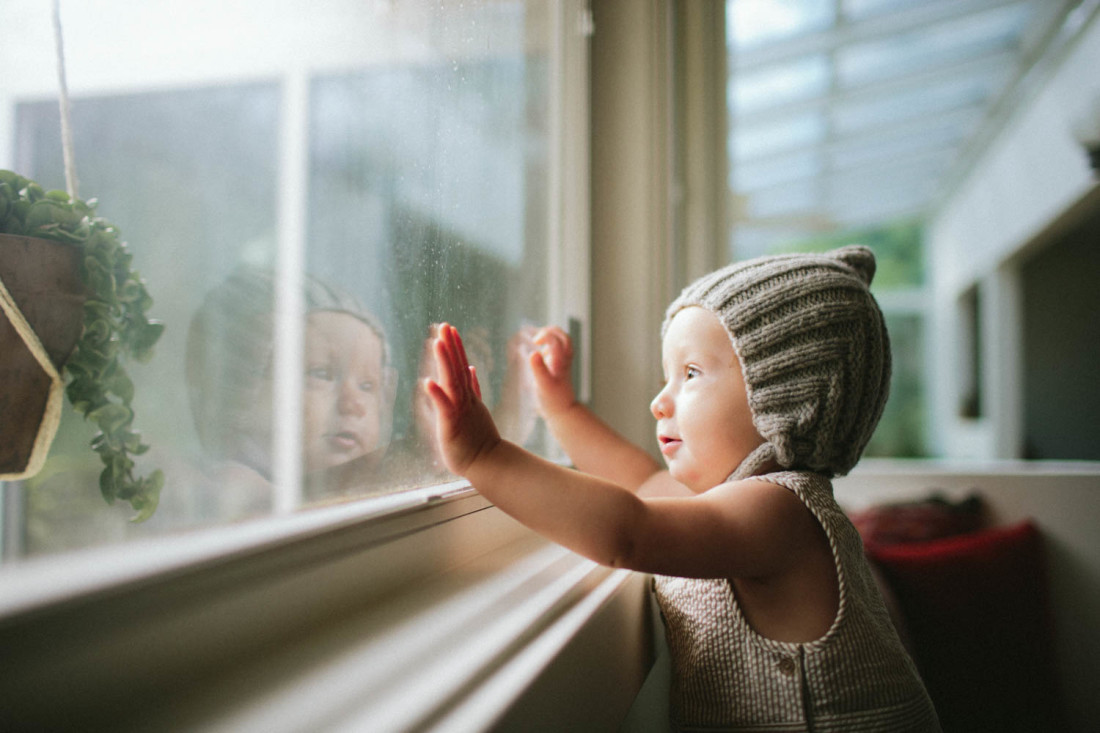 Growth & Appearance: We have yet to take you in for your 9 month well baby appointment but they put you on the scale a week or so ago when we took you in to see about an ear infection and you were 20.8 lbs. No ear infection.
You graduated from wearing your helmet, though it wasn't quite the send-off we had anticipated. I guess I had hoped they would have said, 'congratulations, all better, you're done'. Instead they used words like 'improvement' and left us with the option of another 14 weeks of treatment to strive toward 'perfection'. We declined. We're happy with the shape and any deformity at this point is hard to notice, even when looking at the images they provided us with.
I guess your eyes are hazel. They're not blue and they're not brown. So I'm going with hazel. Dark hazel. Your hair is light brown with a hint of strawberry in it; similar to Van's at the same age.
You've grown out of much of your 12 month clothes due to height and are on to 12-18 or even 18-24. We just switched you over to size 4 diapers. Dressing you, in general, is no easy feat. You're super squirmy.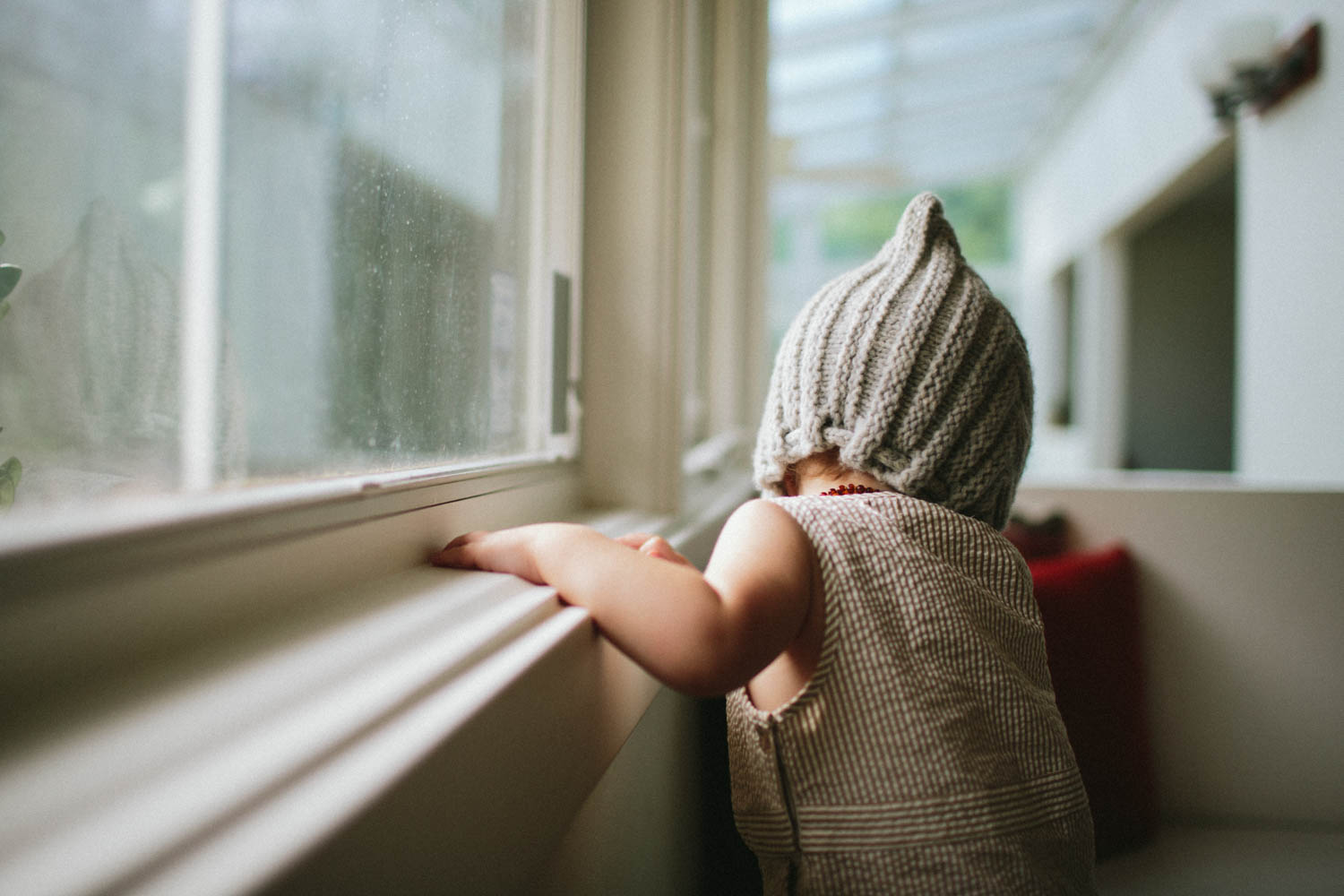 Sleeping: You fell asleep in your highchair the other week. You've also been known to fall asleep in your little play area; it's not uncommon to find you in the sitting position with your head in your lap, flat as a pancake, fast asleep.
When you wake up, you stand in your crib and start making noises until I look at you. And then you cry as I go to the bathroom as if you can't wait another second to be held and fed. It's sweet but it's also loud.
You wake up around 6:30am, which is earlier than we'd like and still just slightly before your brothers wake which means you're still in our room despite me mentioning moving you in with them every damn month. You are ready for a nap around 10:30 and sleep for 2-3 hours. If we're home in the afternoon, you take another nap, around 3:30pm or 4pm for an hour or two. You fall asleep on your own around 8:30pm and then I wake you for one last feed before I go to bed around 10:30pm. And you sleep through the night, in your crib, next to our bed.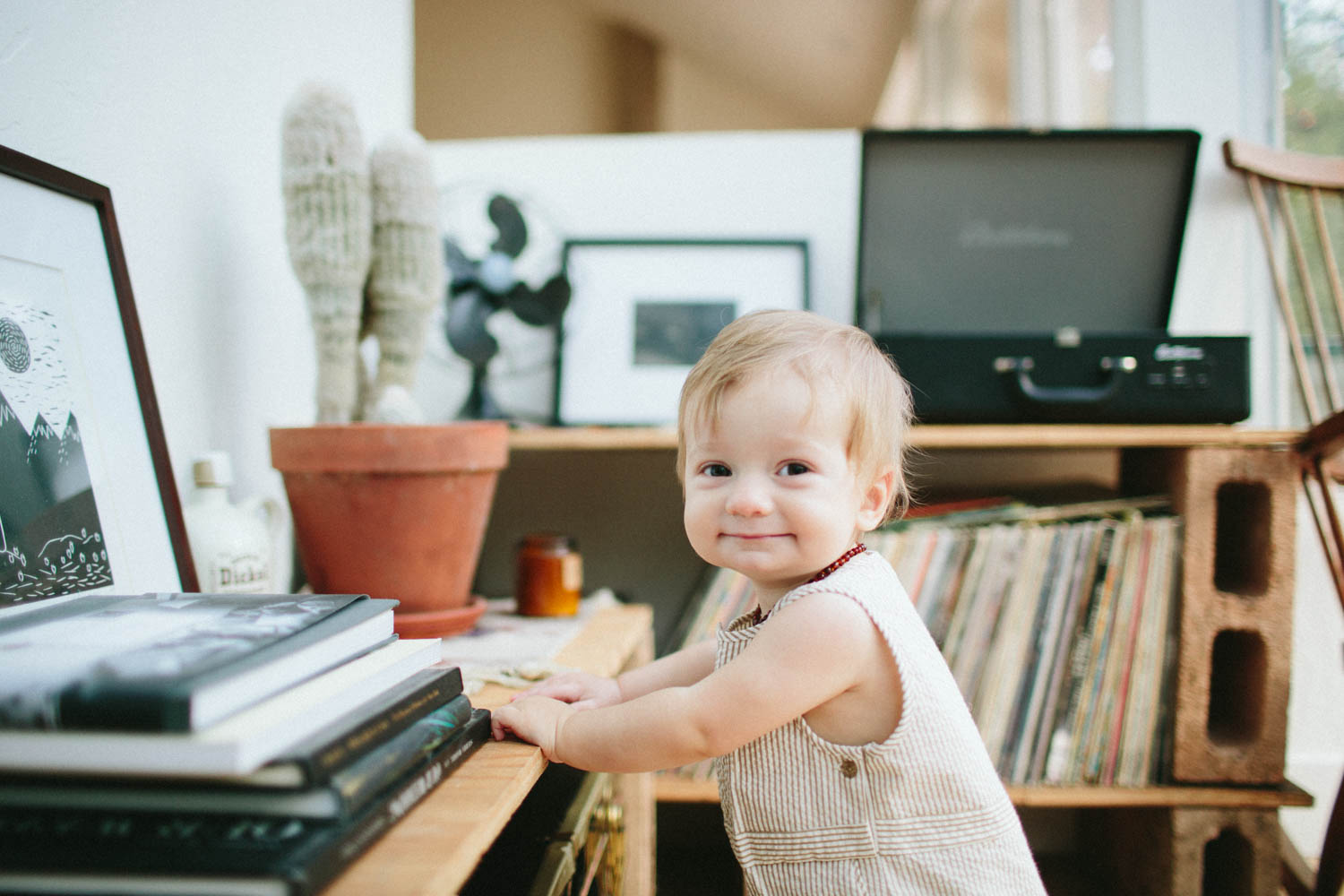 Eating: I finally got you to eat more fruit by warming it up first and mashing it in with your oatmeal. I can now give you strawberries, blueberries, and raspberries but even with the added cinnamon you're still not into apple. You eat vegetables with ease; asparagus, broccoli, peas, carrots, sweet potato. In general, you eat whatever we're eating unless we're eating crap, which we do more often than is worth admitting. You also tried tofu this month and dig it. And egg whites, too.
Your favorites are still avocado and banana.
You recognize foods and get excited when you see something you particularly like; like when I sat down with yogurt the other day and you started rocking back and forth like a cowboy on a horse until I shared with you.
You breastfeed three times in the morning, twice in the afternoon, and 2-3 more times in the evening. Some are better quality feeds than others.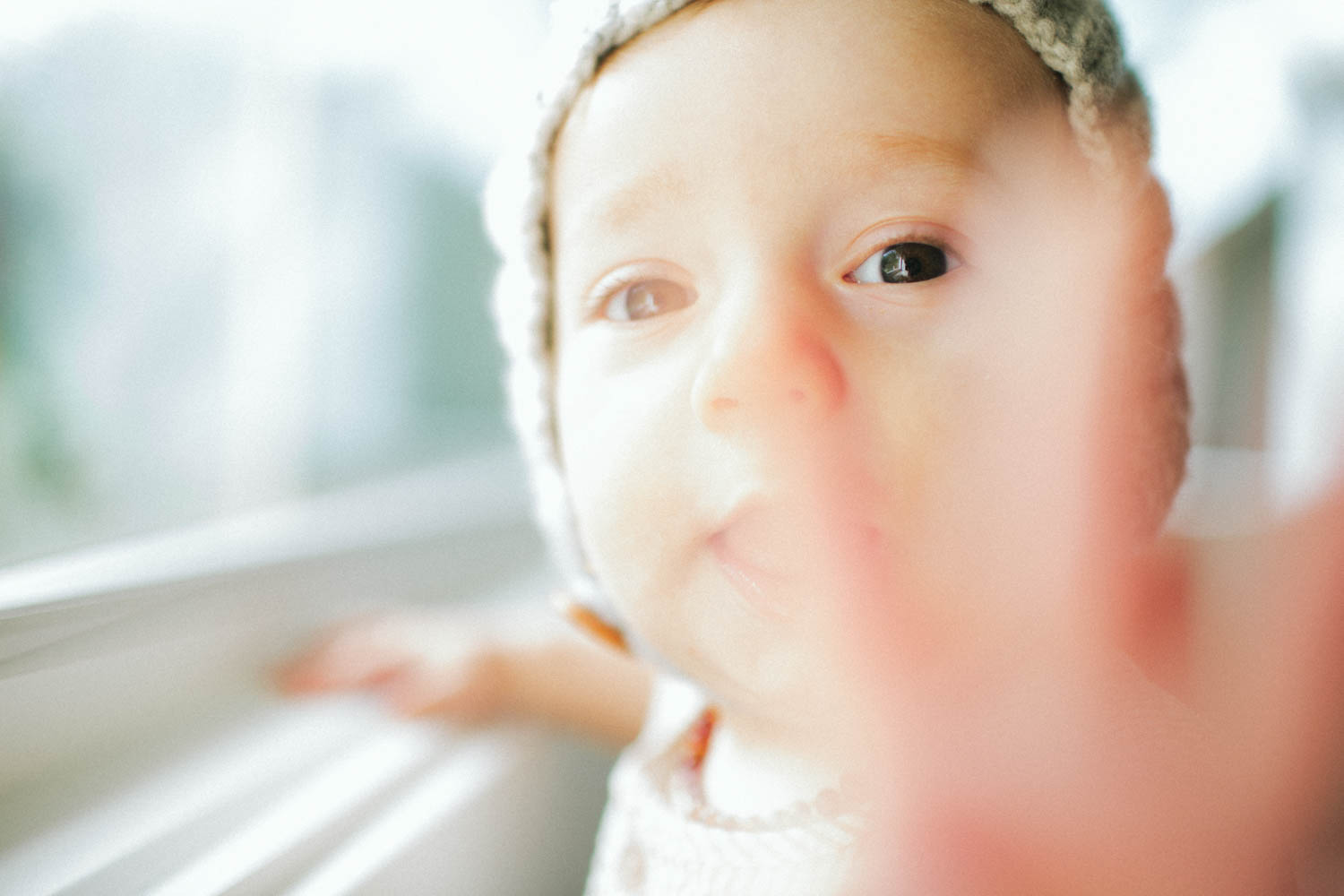 Development: I found you splashing piss-filled toilet water around. Gross.
You appear to be right hand dominant and can be found crawling with a toy in your right hand.
You're happy as a clam and love to laugh and play games. You know when you're being teased and you revel in the attention.
You still put everything in your mouth; each and every little bit of anything on the floor goes in your mouth. I've pulled out leaves, strings, rug fuzz, little itty bitty bits of wrappers, legos (oh the dreaded legos), oh, and yes, dog food. You really liked the dog food.
You've begun showing some feistiness. We were at a party and you screamed in disgust when another little baby took a balloon from you. Then, at Thanksgiving, you kept grabbing the face of another baby. I have a sneaking suspicion there is a monster a' brewin'.
You're as busy as a bee in the hours that you're awake and keeping up with you is a full-time job. If you were a snail, you'd have tracks all over the house within just an hours time. You're into everything and get anywhere in seconds flat. We had a gate up on the stairs but Hooper knocked it down and it has yet to go back up. You love opening the cabinet doors in the kitchen and thrashing around. It's only a matter of time before you break something and by something I mean everything.
You are starting to follow commands. You know how to kiss but are rather stingy with giving them out. You've waved a few times.
Early in your 8th month you started standing unassisted. It started with just a couple of seconds and quickly matured into a good solid stand. Your balance has improved over the month and on the eve of your 9th month you took 5 steps. There were a lot of breaks in-between (balance-step-balance-step) and you have yet to repeat this feat. Crawling is still your chosen mode of transportation. You furniture walk and can transfer between pieces of furniture with ease.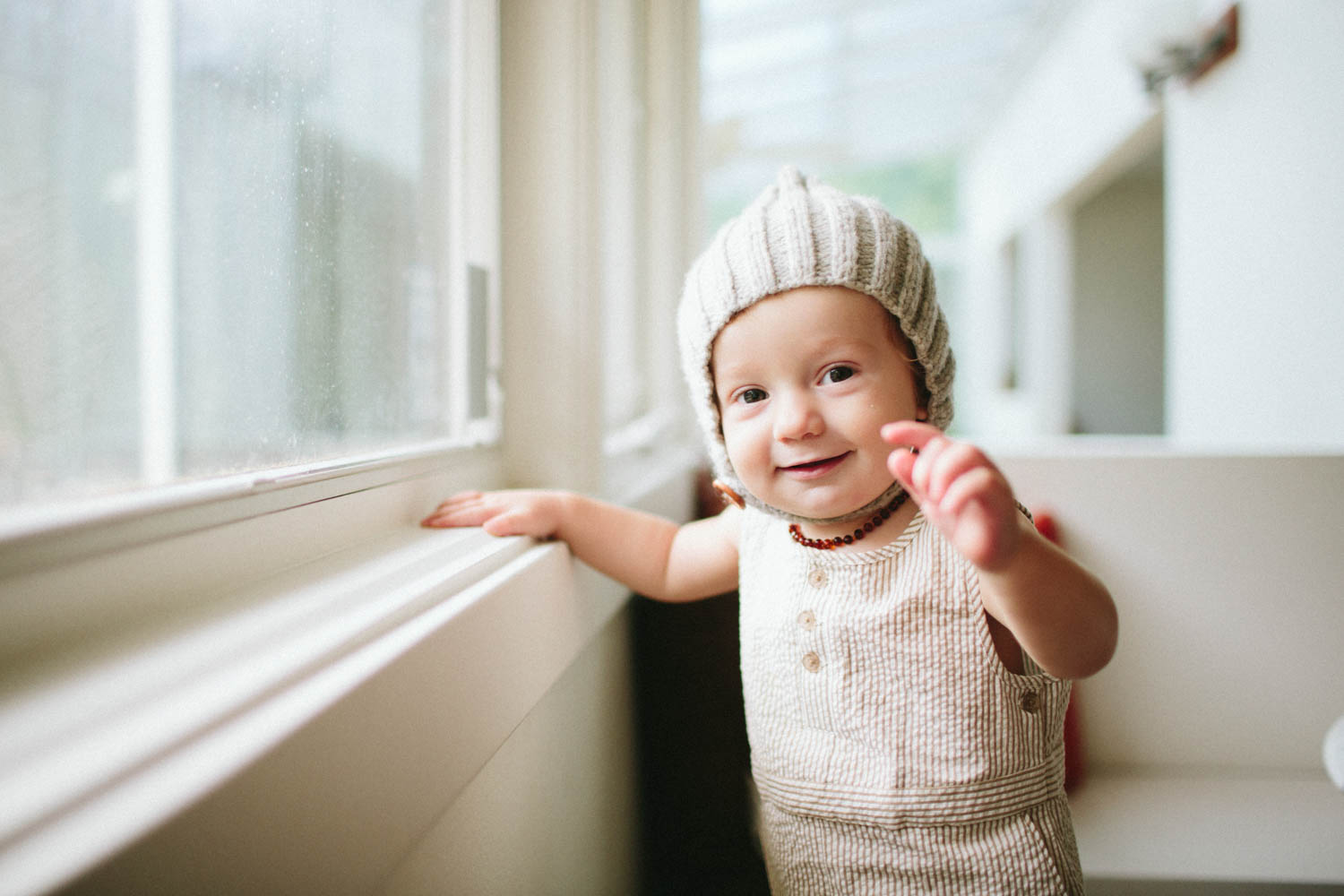 Favorites: You love balloons. There is a golf ball that you like to throw and then crawl after and then throw again. Otherwise it's the same ol' story: phones, remote controls, and all the other stuff we value and don't want in your mouth. And mama. You love me and if I'm in the room there's no one you'd rather be with.