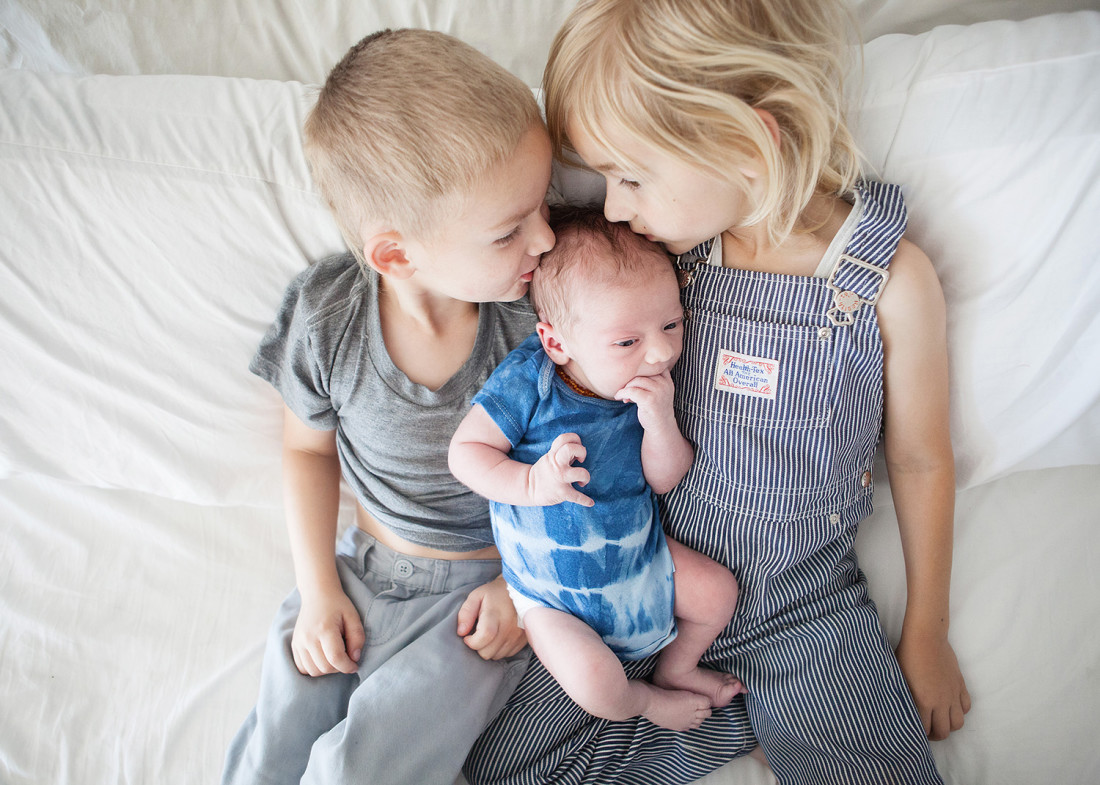 Growth & Appearance: You were born with brown hair. It's not as dark as I remember your brothers' at birth and I anticipate that it will lighten, as theirs did, over the next several months.
I had to trim your nails in the hospital as being 'overdue' allowed you to be born with daggers. You scratched yourself often until I was able to give them a proper cut. I've had to cut them twice since then.
By your third week of life, you developed a bald spot on your head. Near your cowlick you have a longer patch of hair so you look a bit like this.
Your eyes are a deep ocean blue, which again is reminiscent of your brothers and I imagine they, too, will change with time.
Your fingers, toes, and limbs are all long. Like, really long.
At birth you weighed 10 lbs, 22 inches. At about a week old you were 10.4 lbs and 22 1/2 inches. At your one month appointment (at 5 weeks) you weighed 12.5 lbs and were 24 inches long. Your head circumference is 15.5 inches.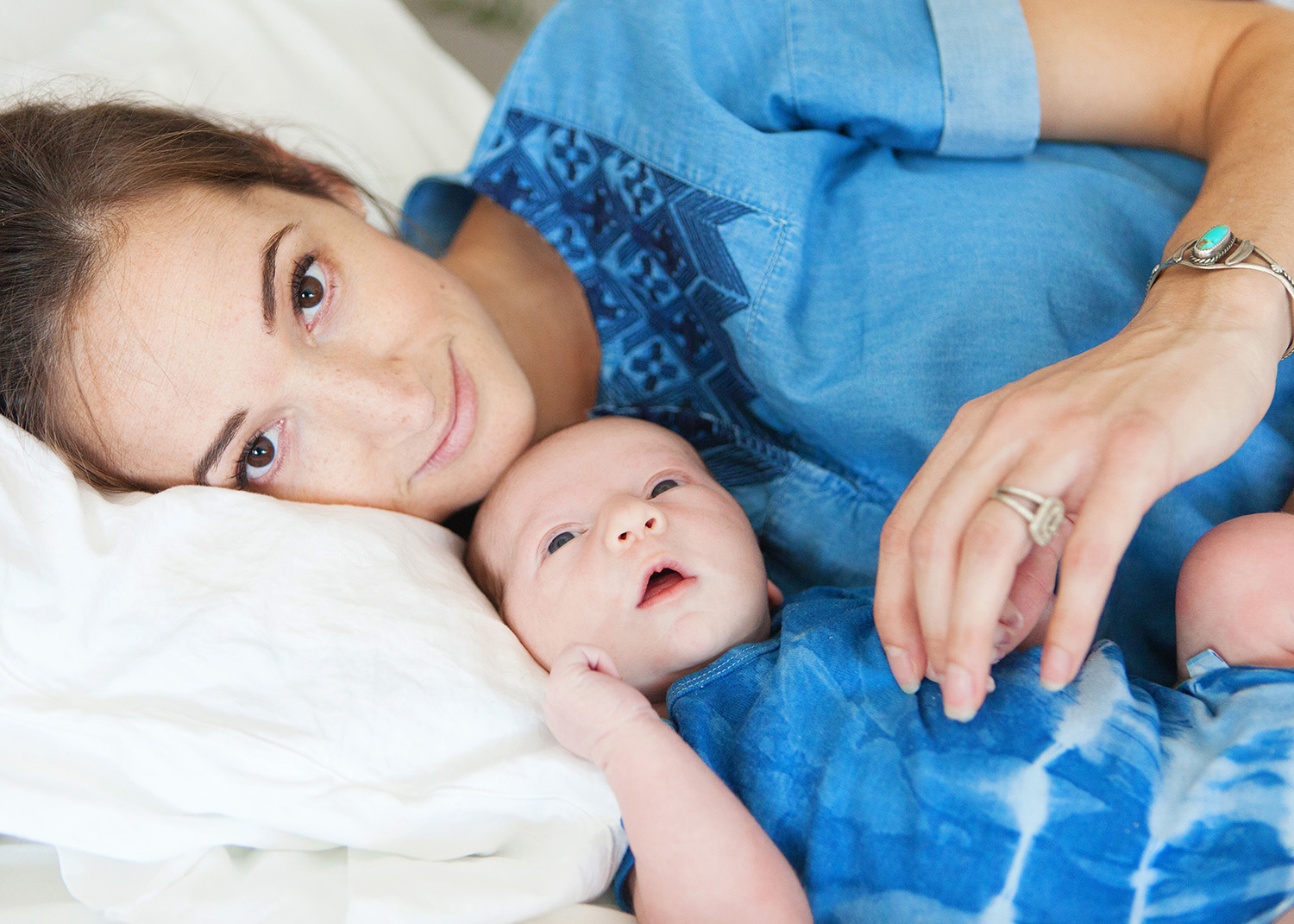 Eating: I breastfeed you on demand. I've been floating through these days too much to take note of any sort of pattern, but there does seem to be some vague sense of one forming.
You like to cluster feed, especially in the evenings and will either flip flop between breasts several times or separate feedings by a mere 30 minutes.
You have a great latch and fortunately the whole breastfeeding gig has been smooth for both of us.
You'll take a bottle and we're trying to remember to give you at least an ounce of expressed milk once a week or so to keep up on this skill.
You'll latch onto anything. A video of you latching onto your Papa's nose has generated over 81K views on instagram with only a small handful exercising their social media policing powers. Hashtag: eye roll.
If I had to guess, I'd say you nurse a total 8-9 times during the day and 2-4 times during the night.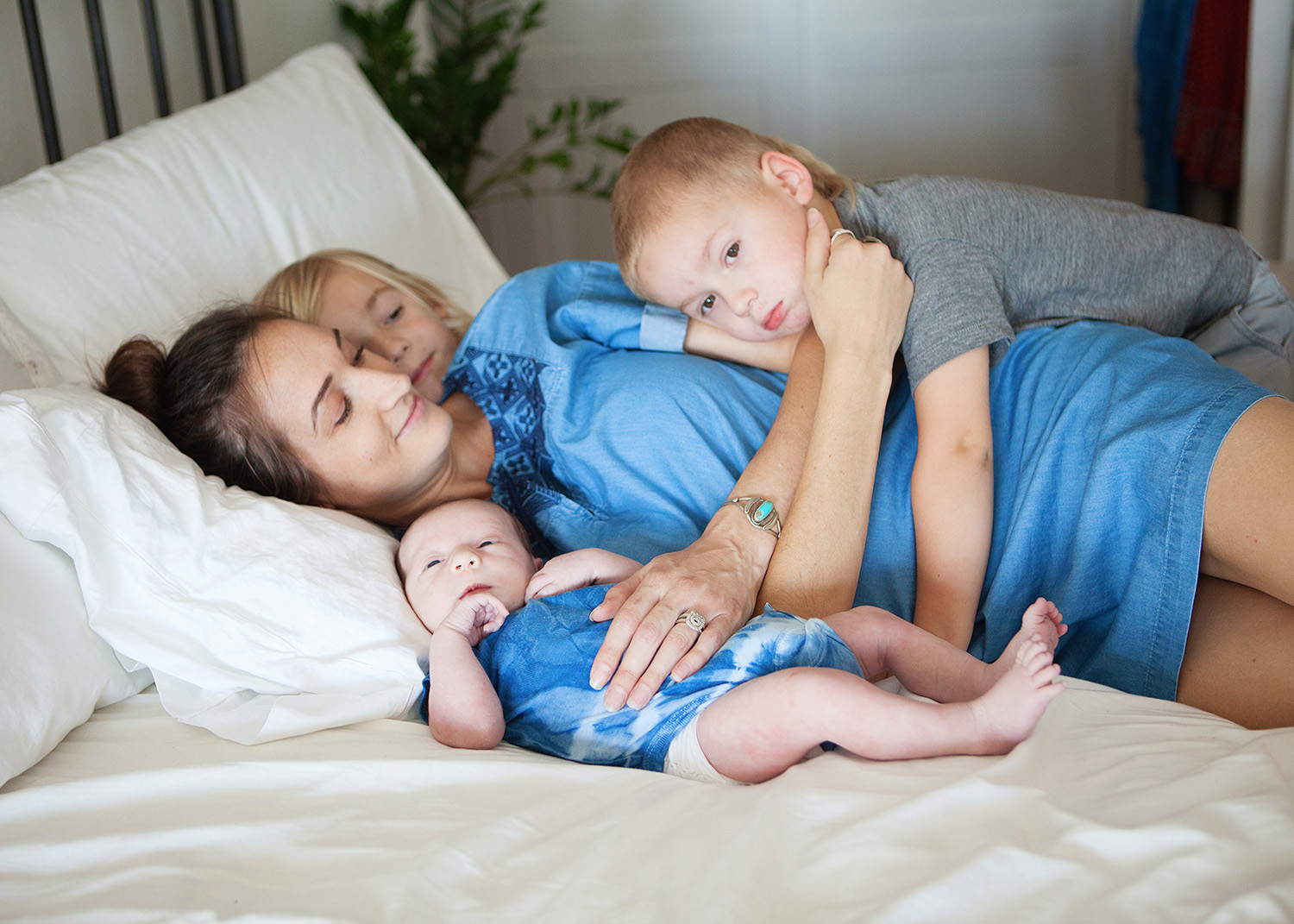 Sleeping: By your second week, you were sleeping in 2 to 3 hour increments, with a rare 4 hour stretch thrown in once, I think. For the first two weeks, feedings took an average of an hour (30 minutes on each side).
By the third week, our nighttime schedule looked like this: go to sleep about 10pm, wake up around 1am, 4am, 7am. I think there was one 5 hour stretch slipped in on one of those nights. Feedings took an average of 15-20 minutes on each side, for a total of 30-40 minutes per feeding.
At one month, you wake, on average, every 3 hours and nurse for a total of 15 minutes or so on each side. Sometimes you'll fall asleep without taking both sides. Most nights we go to bed around 9 or 10pm and you wake around 1 or 2am, again around 4am, and for the day around 7am.
We're sleeping together, in the guest bed.
You've been sleeping in the woombie, which Hooper refers to as your 'worm packet' since week one. You sleep much better in it.
Even when you wake to feed, you don't cry; instead you let out a few grunts and gently start kicking your feet.
Your farts during the night are enough to make the bed vibrate.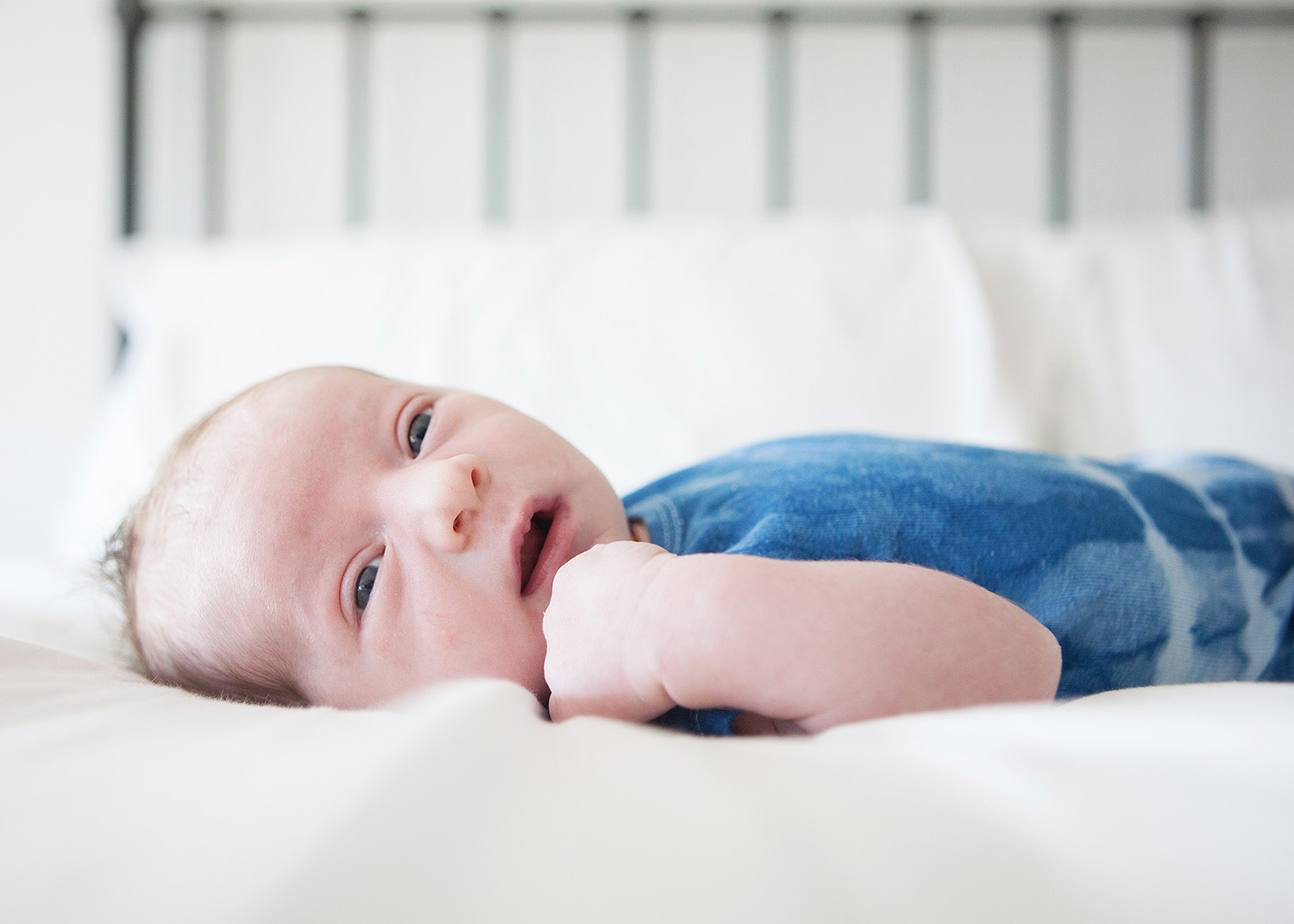 Development: You spend much of your day either sleeping or eating.
You prefer turning your head to your left over the right. The doc noted that the left side of your head is slightly flatter.
You're independent in the sense that you don't need to be on or around anyone; you're content to snooze wherever we lay you and in true third child fashion, not much disturbs you. This is in-spite of the fact you're constantly being kissed by your brothers or licked by Jimmie. I suppose it just comes with the territory and you've proven to combat any distractions with some wonderful adaptation techniques.
You don't mind being on your tummy.
Other than peeing on me during your bath, twice, you have not sprung a leak while having your diaper changed. Considering your brother peed in your Papa's mouth, we're all celebrating this small victory.
You're patient. Again, I chalk this up to being the product of a third born. You rarely cry when you're hungry or need to be changed, using quite grunts to tell us gently that you're hungry or uncomfortable.
When you are awake, it's obvious the wheels are spinning. You lock eyes with us on occasion and study our smiles; I can tell you're trying to smile back, it just isn't translating quite yet.
You don't care who holds you, you'll cuddle with whoever's arms you're in. I'm sure this will change in time, but I remember both of your brothers' always preferring to be on me, at all times.
You'll take a pacifier for a short period of time but end up spitting it out. You prefer to suck on a finger instead. And not your own, unless – that is – it happens to land in your mouth. In general, you're just not that coordinated yet.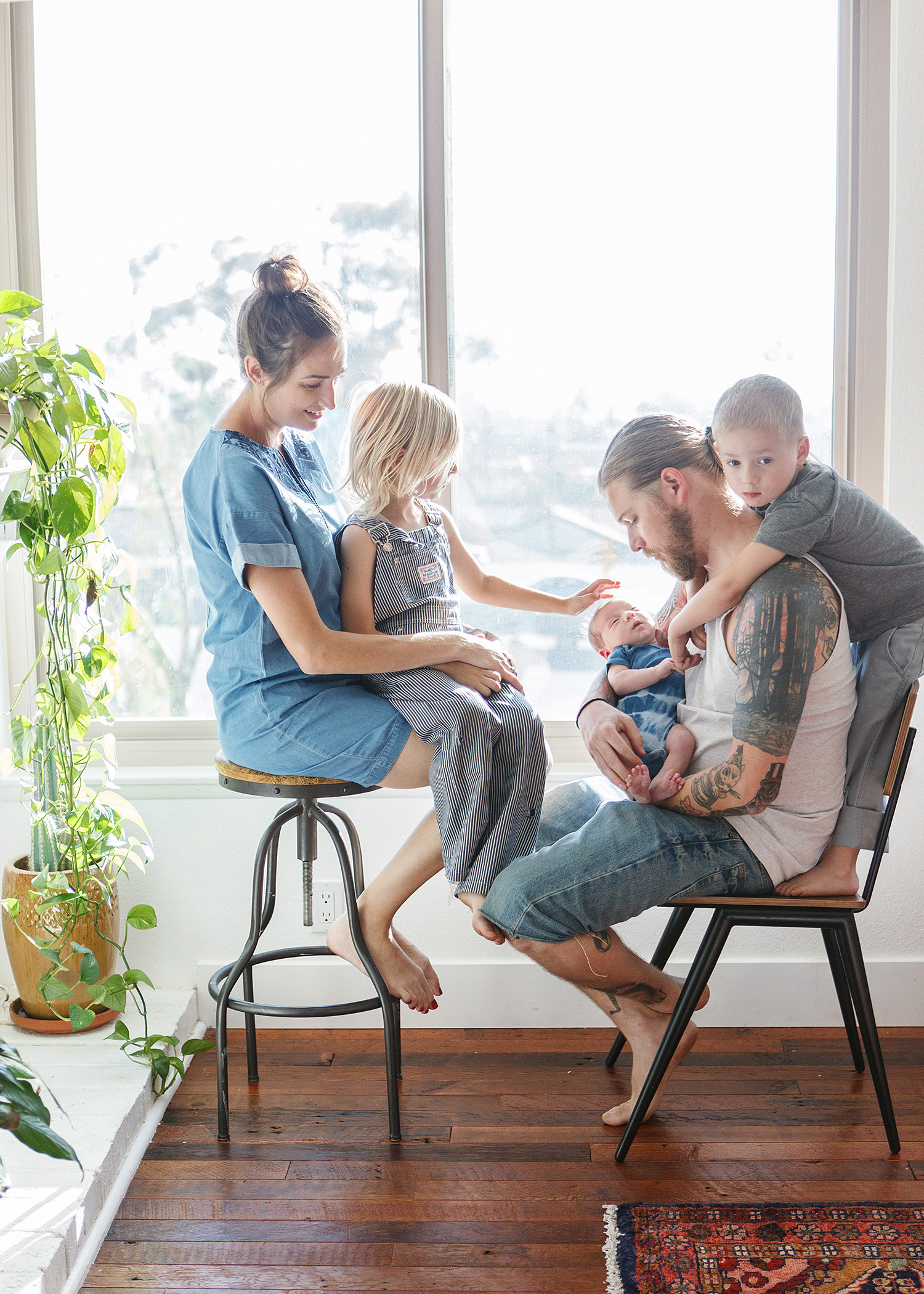 All of these lovely images are by my talented friend, Noel, whom I am greatly indebted to. You can check out her site here and follow her gorgeous instagram feed here.