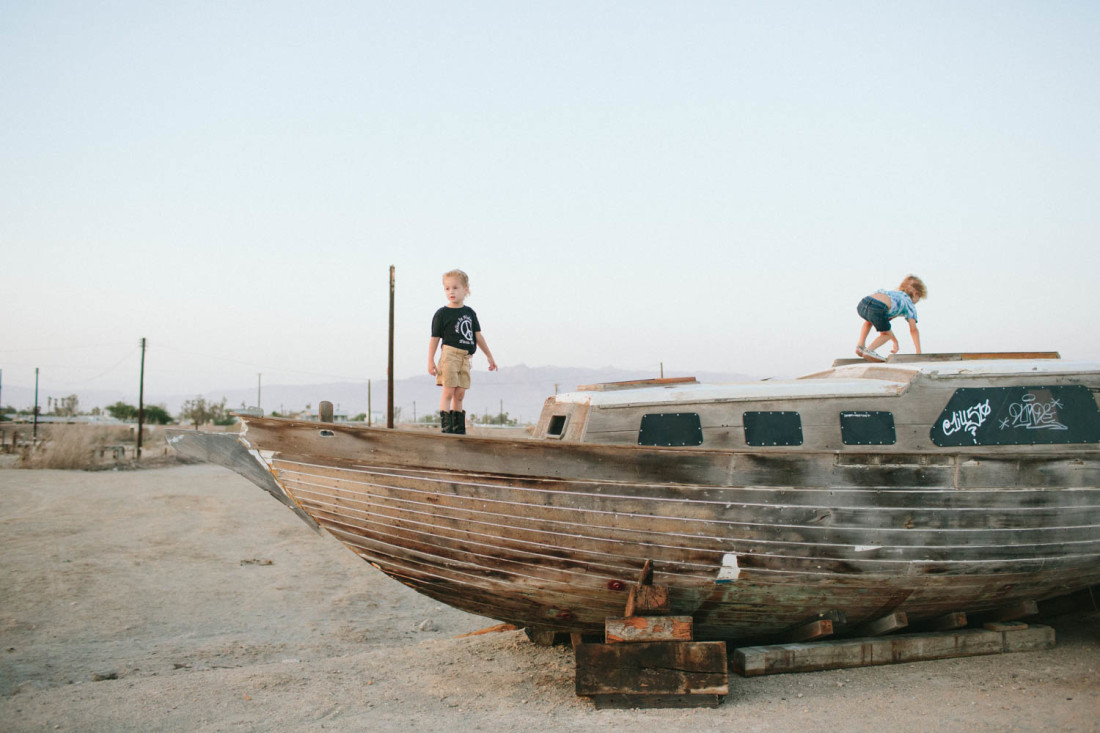 The Salton Sea, a place I can't seem to abandon whenever we're out in the desert; equal parts mystical and enchanting, disgusting and desolate. And different every time we go.
We stopped at a hole-in-the-wall bar / restaurant in Bombay Beach, a place you're sure to sit shoulder to shoulder with the local crowd. It's walls adorned with dollar bills, so many in fact that I always think should the place run into financial ruin the money on the wall is sure to pay for another months rent, at least. I've heard whispers that Anthony Bourdain ate here once; not that the food is to rave about, it's really the only option for miles. In any event, the fried chicken and french fries never seem to disappoint. Unless you're a three-year-old on the verge of the fucking fours and your goal in life is to make every step of life difficult; in-which-case, not even fried deliciousness can contend with a sour mood.
We stepped out with bellies full, minus said three-year-old, the warm on-the-verge-of-summer air wrapping around us like a blanket on a cold night. The trains passing in the distance and the sun setting beyond the horizon. We pulled off the road at a spot we've been several times in the past and stumbled upon an abandoned wood boat we had never seen before; the mystery of the Salton Sea proving, as always, to produce more questions than answers.
Given the day prior, which included a trip to the ER, this day was in some way payback for prior suffering. Even if for just a few moments in time; moments where that soon-to-be four-year-old let go of the fact his cowboy boots were soggy (I mean who goes into the pool with their cowboy boots on?) and explored an abandoned 'pirate ship' while the trains chugged on and the setting sun said goodnight.
More on our last trip to the desert to come.
Please join me in supporting the other photographers participating in the Childhood Unplugged movement by clicking here to see all our submissions. You can also follow us on instagram (@childhoodunplugged) and be sure to use #childhoodunplugged for a chance to be featured on our Instagram feed.